Cotton On Job Application
Use the various link posted on this page to access the official Cotton On job application online. Numerous types of careers can be searched/applied for via the company's online careers site. Learn more about the online application/hiring processes by following the steps in the guide posted below. The company's careers web-page allows you to search for current job openings, learn more about the types of positions that are available, as well as apply for numerous careers.
About the Company: Cotton On Group is an Australian retail clothing brand based out of Geelong. The company was created in 1991 and operates globally. Cotton On employs more than 17,000 people across numerous industries/positions.
Apply Online
Step 1 – Go to the company's main employment page. Press this link to have the employment site open in a new browser window/tab.
Step 2 – Enter a keyword into the first input field and then enter your location into the second input field. Press the "Search" button to load the list of current job openings.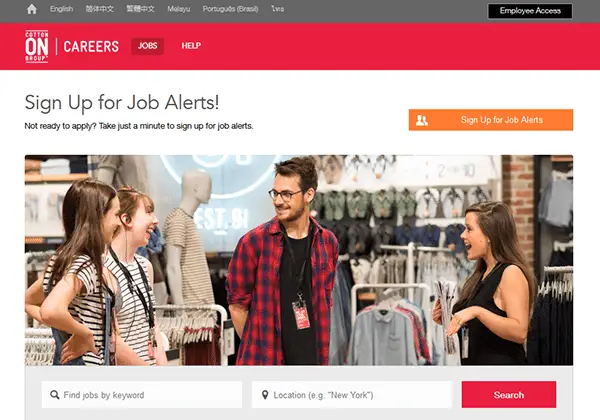 Step 3 – The list of current job opportunities can be sorted by category, location, country, or language. Click the title/link of the specific role that you want to start the online application process for.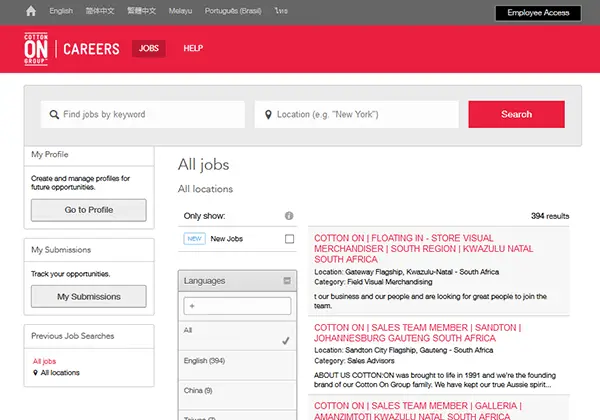 Step 4 – Read the complete job description and then press the button that's outlined in the below screenshot (to go to the next part of the application process).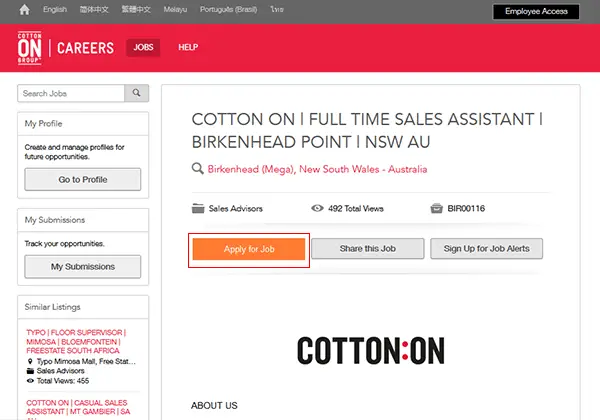 Step 5 – Enter your email address into the input field/pop-up form and then click the "Go" button to move to the next step of the process.
Step 6 – After you have submitted your email address you will be able to start filling in your information into the application form. It's important to submit all of the required details carefully into each section of the form.
Note: You can only submit the application after all of the required details have been entered.
Comments
comments