Barnes & Noble Job Application
The Barnes & Noble job application can be filled out online by going to the careers site (use the link above/in the below section). Corporate, retail, and distribution jobs can be applied for using the online application.
About the Company: Barnes & Noble is the biggest chain of book stores in the United States. The company has over 600 locations in every state of the country.
Apply Online
Step 1 – Go here.
Note: Link opens in a separate browser window/tab.
Step 2 – Press the link of the type of job you want to apply for (e.g. retail, corporate, distribution).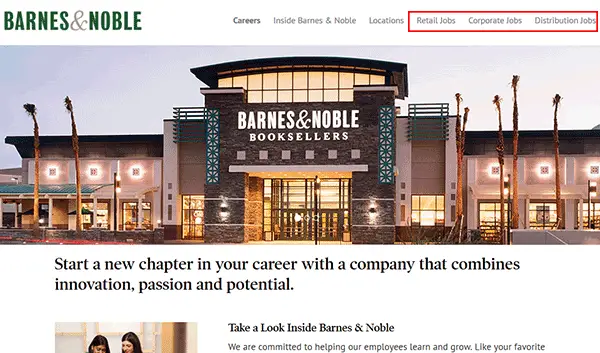 Step 3 – Filter the results by selecting a location or entering a keyword.
Step 4 – Click the title of the position you're interested in applying for.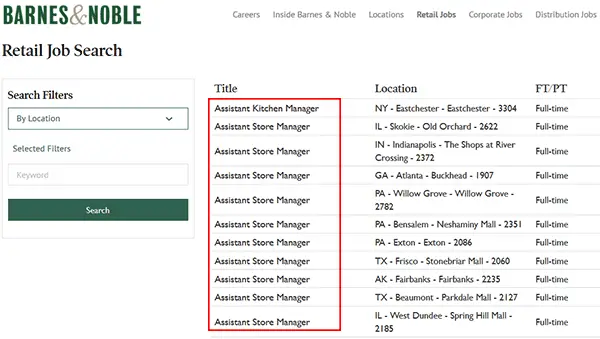 Step 5 – Review the job's essential functions, requirements/qualifications, etc. Press the "Apply Now" button near the top of the page.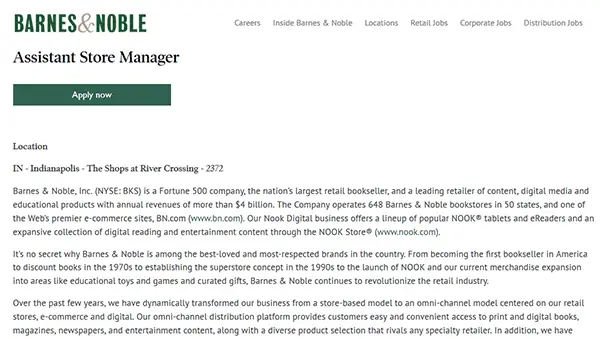 Step 6 – Click the "Apply for this position" link.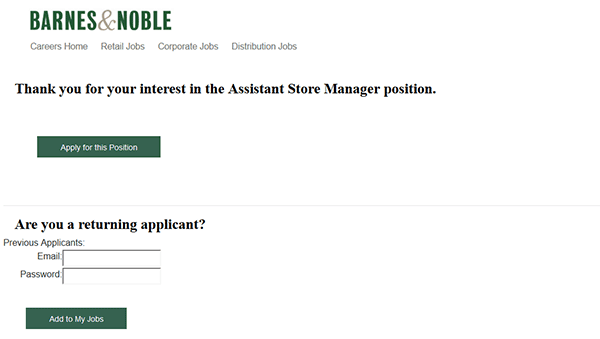 Step 7 – If you have a LinkedIn profile or resume, you can choose to import your personal data. Otherwise, you must manually enter the following information into the appropriate input fields:
First name
Last name
Phone
Street address
City
State
Postal code
Country
Age category
Salary range
Start date
Email
Password
If you're legally authorized to work in the U.S.
Your schedule availability
If you currently require visa sponsorship (or will require it in the future)
Specific availability information (Monday through Sunday)
Resume attachment
Employment history
Education
Certificates/licenses
Skills
References
How you heard of the job/company
Equal Opportunity questionnaire
Veteran classification
Voluntary applicant survey
Candidate sign off