Tyson Foods Job Application & Careers
The Tyson Foods job application can be accessed by visiting the company's main careers website. Use the links provided on this page to go to the employment site. The guide posted in the section below details the company's online job search and application process. Numerous types of careers can be applied for online including corporate, operations, and distribution positions.
About the Company: Tyson Foods is an American food processing/marketing company based out of Springdale, Arkansas. The company was founded in 1935 and is one of the largest food processing operations in the world.
Apply Online
Step 1 – Use this link to open the company's employment site in a new browser window/tab.
Step 2 – Scroll down the page and click the "Search for Careers" button/link that corresponds to the type of job that you're interested in (i.e. corporate, distribution, or processing).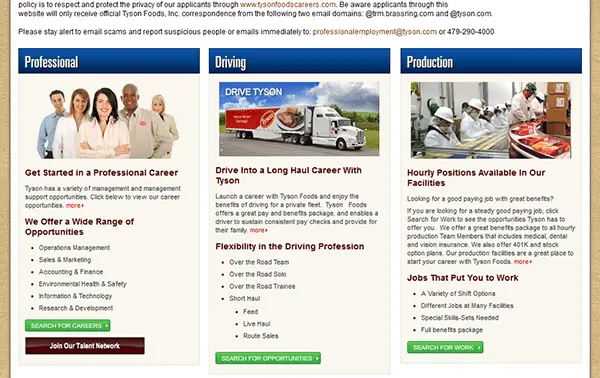 Step 3 – The results can be filtered by state, city, shift, or facility name (for processing positions). Press the "Search" button to view the list of updated results.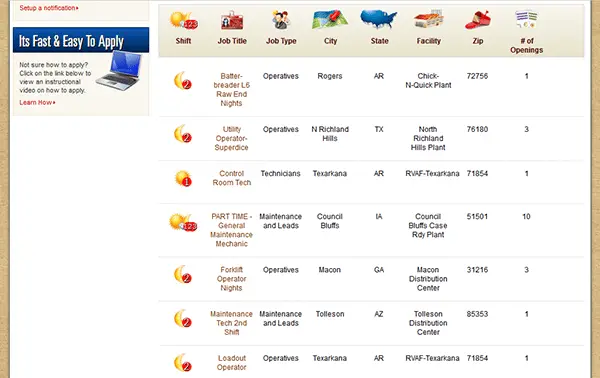 Step 4 – Click the link of the specific position that you intend on submitting an application for.
Step 5 – Review the job description and then press the button as outlined in red in the below screenshot.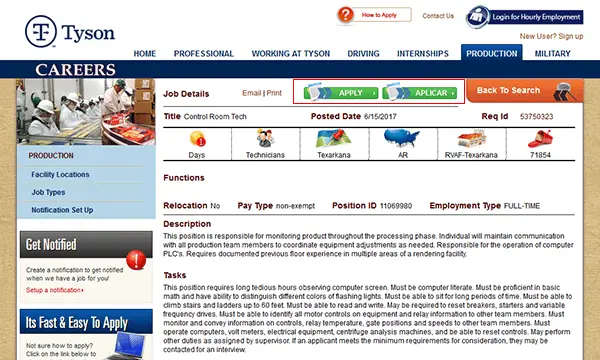 Step 6 – If you have an account already use the sign-in form to log in to it. If you need to create an account fill in the following details (into the registration form):
First name
Last name
Email address
Confirm email
Password
Confirm password
Pin number
Re-type pin number
Read and agree to the terms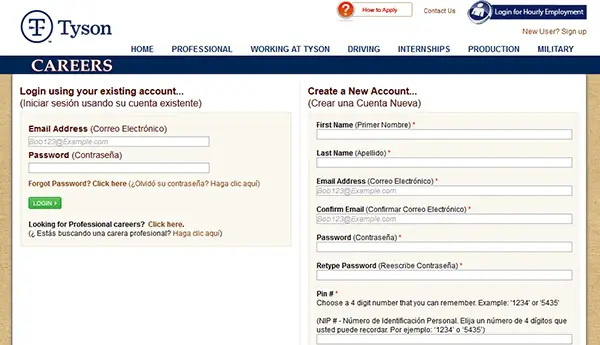 Step 7 – Submit the following details into the first section of the online form:
Personal data/contact details
Permanent residence
Communication data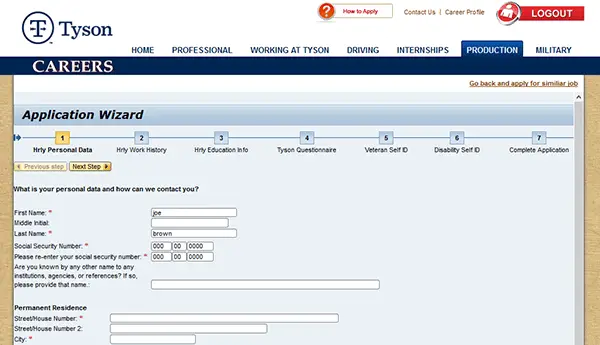 Step 8 – Complete the remaining sections of the form:
Work history
Education information
Questionnaire
Veteran self ID
Disability self ID
Complete application