Zara Job Application & Careers
The Zara job application is available via the company's jobs website. Read the section posted below for more information regarding how to navigate the jobs site, search for open positions, and submit an application or resume. Numerous job types can be applied for including corporate and in-store positions (both management and sales).
About the Company: Zara is a Spanish chain of clothing stores headquartered out of Arteixo, Galicia. The company operates over 2,000 stores around the world.
Apply Online
Step 1 – Copy and paste the following link into another tab/window:
https://www.inditexcareers.com/portalweb/en/web/joinfashion/home
Step 2 – After arriving on the homepage click the "Jobs" button near the top of the page (outlined in red in the below screenshot). After you click the button you will be taken to the main jobs search page.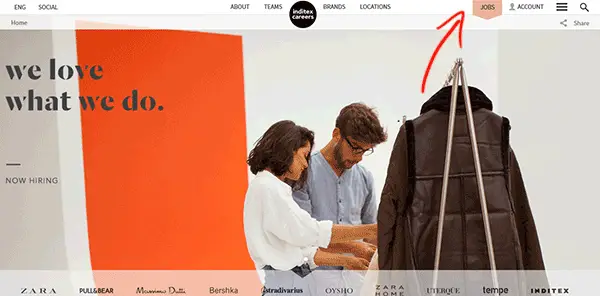 Step 3 – Select "Zara" from the brand list (drop-down list) and then select a country/city. Hit the "See More Jobs" button to filter the results.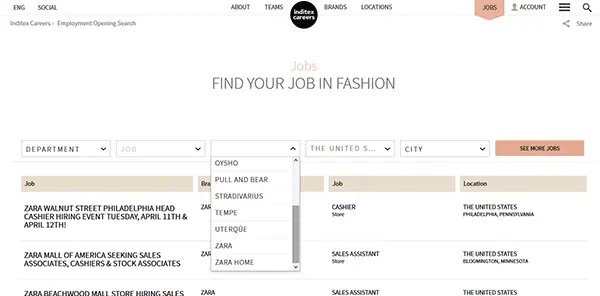 Step 4 – Click the job title link to learn more about the employment opportunity. If the option to apply online exists there will be an "Apply" button. Click this button to begin the online hiring process.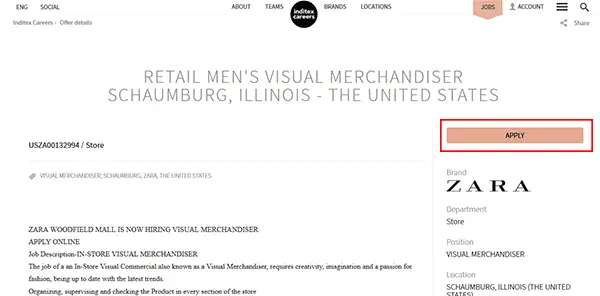 Step 5 – If you are already registered sign into your account. If you need to create an account click the "Create an account" link.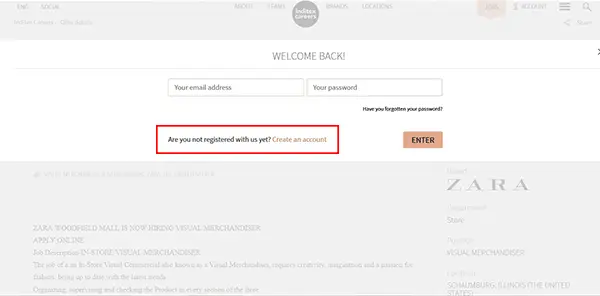 Step 6 – Fill out the preferences menu (team, brand, country, etc.) and then click the "Add Preference" button.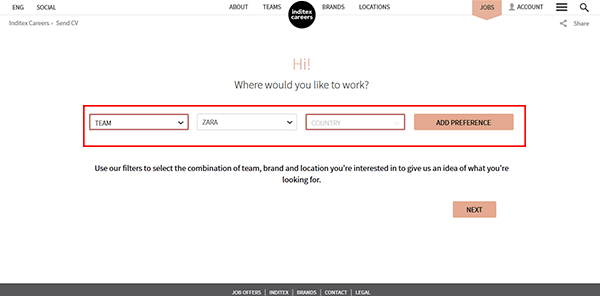 Step 7 – Select your workings hours (e.g. full or part-time), select if you've worked for the company before, answer the other questions, and then click the "Next" button.
Step 8 – After providing all of the required information you will be able to submit your online application.