Smart & Final Job Application
Use the links on this page to access the Smart & Final job application (online and offline versions). The offline version is available as a .PDF file. Read the guides posted below for more information regarding the online hiring process (as well as how to fill out the printable application).
About the Company: Smart & Final is an American chain of food/supply stores headquartered out of Commerce, California. The company currently operates over 200 locations throughout the Western United States (as well as several locations in Mexico).
Apply Online
Step 1 – Click on this link to open the company's employment page in a new browser window/tab.
Step 2 – Click the link of the type of job that you want to apply for (e.g. corporate, retail, or supply chain).
Note: This guide details the hiring process for retail positions.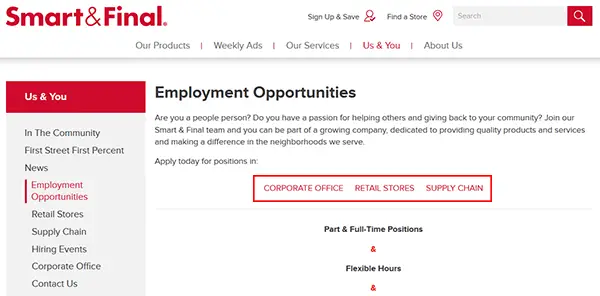 Step 3 – Download the application form (using the link at the top of this page), fill it out, and then submit it in-person at your local store. You can also email the completed form to [email protected]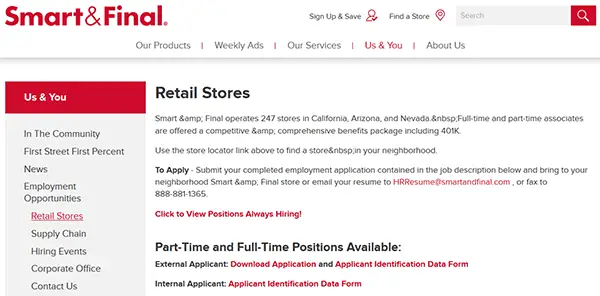 Step 4 – Read the guide in the section below for more information regarding how to properly fill out the form.
How to Write
Step 1 – Download the document (.PDF format) via the link at the top of this page.
Step 2 – Once the document has been download you can either fill it out in a .PDF editor, or by printing it out and writing in the required information.
Step 3 – On the first page of the form submit the following details into the appropriate input fields:
Last name
First name
Middle name
Mailing address
City
State
Zip
Home phone number
Business phone number
Email address
Position applying for
Location
Referred by
Questionnaire answers
Education information
Step 4 – On page two (2) of the form submit the following details:
Employment history (company name, address, phone, salary, dates worked, title, etc.)
Step 5 – On the third page of the document answer all of the required questions, and then provide your reference details (name, number, relationship, etc.).
Step 6 – Initial and then sign/date your name.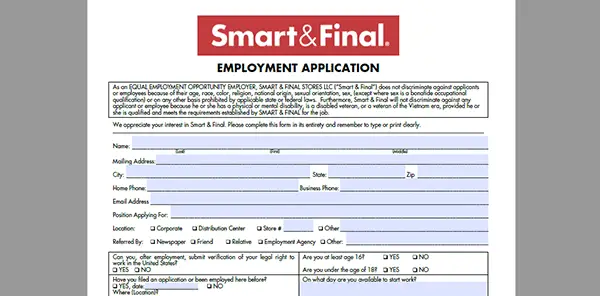 Comments
comments