Use the guide posted on this page to learn how to fill out and submit the Supré job application (online version). Several different career types can be searched/applied for on the careers site including management, design, and retail positions. Learn more about how to navigate the company's careers site, search for current opportunities, create an account, and complete the online application process in the below section.
About the Company: Supré is an Australian chain of women's clothing shops based out of Perth, Australia. The company was formed in 1984, and currently has more than 130 locations throughout Australia and New Zealand.
Apply Online
Step 1 – Click here to open the company's main careers page in a new browser window/tab.
Note: Use the link at the top of this page to go directly to the company's careers page.
Step 2 – Click the "Available Jobs" link as outlined in the below screenshot.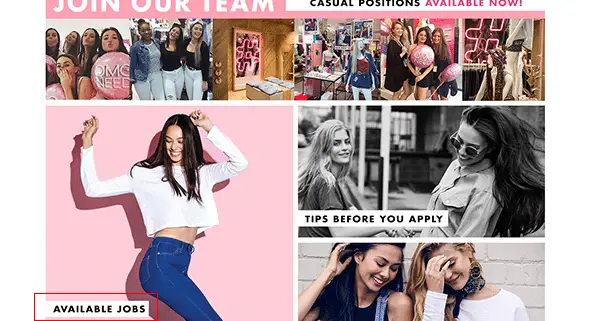 Step 3 – Search by keyword, location, or job field. The results can be further refined by organization, job field, location, or job schedule.
Step 4 – Click the job title link of the position that you want to learn more about/submit an application for.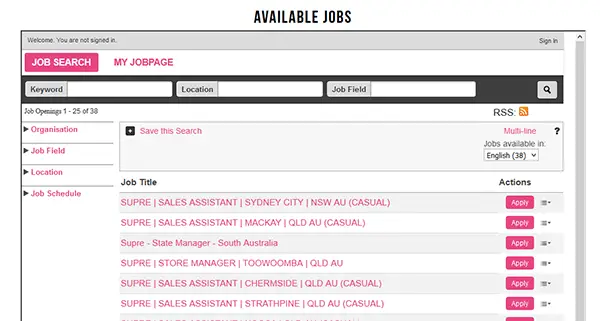 Step 5 – Review the job summary and then click the button as shown in the below image.
Note: If you want to apply for more than one job click the "Add to Job Cart" button.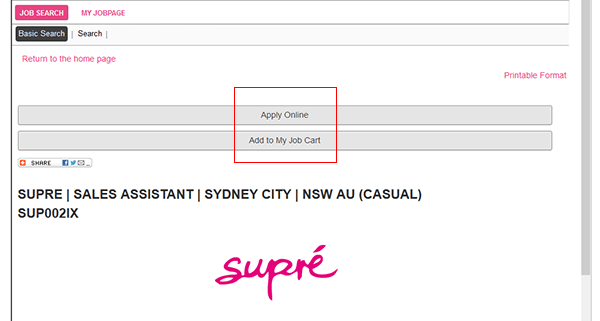 Step 6 – Read and accept the privacy agreement (click the "I Accept" button).
Step 7 – Press the "New User" button to load the account creation form.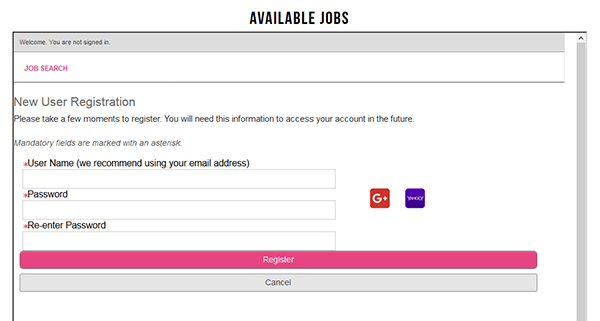 Step 8 – New User Registration – Submit the following information into the registration form:
Username/email address
Password
Re-enter password
AND
Press the "Register" button
Step 9 – Select if you want to import your profile data via your LinkedIn account. Click the "Save and Continue" button to go to the next section of the form.
Step 10 – Fill in the required details for the following sections:
About you
Diversity
Eligibility
A few more questions
Experience
Education
Resume/portfolio
You're nearly finished
Review and submit