MI6 Job Application & Careers
Use the various links posted on this page to access the official MI6 job application online. The links on this page will direct you to the organization's main employment page/site. Numerous types of careers can be searched/applied for via the SIS's online careers site. Learn more about the online application/hiring processes by following the steps in the guide posted below. The MI6 careers webpage allows you to search for current job openings, learn more about the types of positions that are available, as well as apply for numerous careers.
About MI6: MI6 (otherwise known as the Secret Intelligent Service or SIS) is the foreign intelligence agency of the United Kingdom. The SIS was founded in 1919, and employs over 2,000 people across numerous career fields.
Apply Online
Step 1 – Start by loading the MI6 careers website. Copy/paste the following URL into a new tab/window within your current web browser:
https://www.sis.gov.uk/explore-careers.html
Step 2 – When you have the page opened in a new tab/window (note: if you want to go directly to the employment page simply click the blue button at the top of this page), scroll down and then hit the "latest vacancies" button. You will be taken to the list of current openings within the organization.

Step 3 – Click the link of the position that you're interested in to be taken to its description/summary page.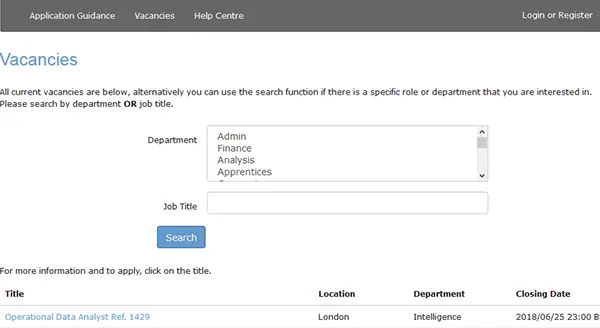 Step 4 – Review the description and then click the "Apply" button at the bottom of the page.
Step 5 – Complete the "Eligibility" subsection/step.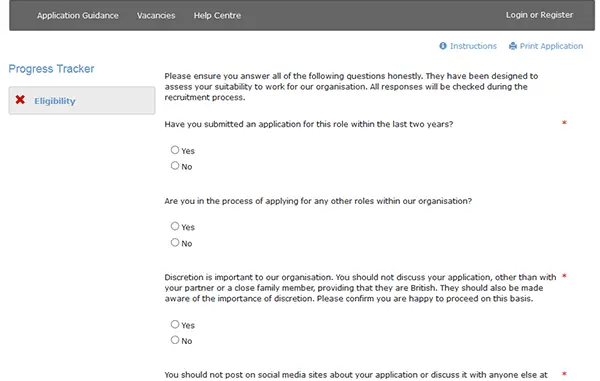 Step 6 – Begin the application form.