MetroAccess Job Application & Careers
Use the links posted on this page to access the online MetroAccess job application. The guide posted below details the online job search/application submission processes. Numerous types of careers can be applied for including management, operations, maintenance, support, and office positions. MetroAccess is an equal opportunity employer.
About the Company. MetroAccess is a Washington D.C. region ride-sharing service that provides public transportation services to residents of the area. The organization was formed in 1996, and is headquartered out of Washington D.C.
Apply Online
Step 1 – Click here to load the MetroAccess careers/employment page in a separate browser window or tab.
Step 2 – Scroll down the page and click the "View All Jobs" button to go to the main job search page.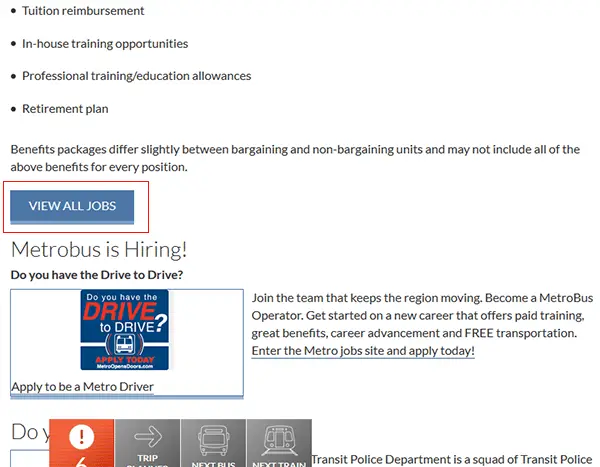 Step 3 – Enter a keyword into the "Basic Search" field and then click the "Search" button to view the results.
Note: If you want to perform a more advanced search click the "Advanced Search" link.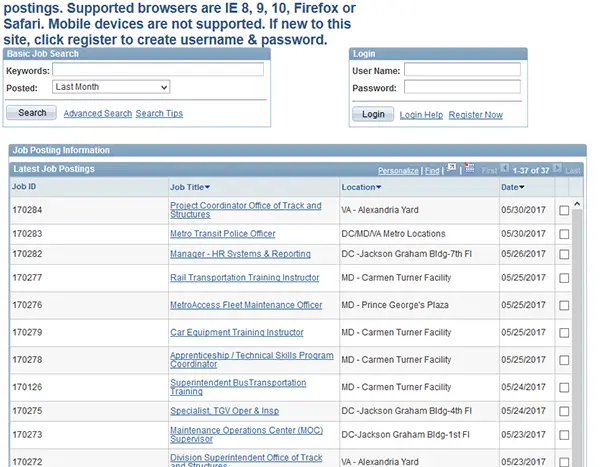 Step 4 – Press the link of the job (in the "Job Title" column) to load the career description page.
Step 5 – Review the posting/position details and then press the button as outlined in red in the below screenshot.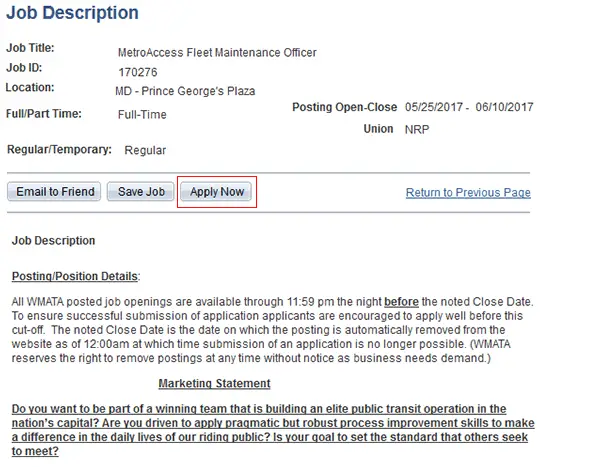 Step 6 – Sign in to your account. If you need to create a new account click the "Register Now" link.
Step 7 – Register – Create a username and password. Check the "I Agree" box and then click the "Register" button to move to the next step of the process.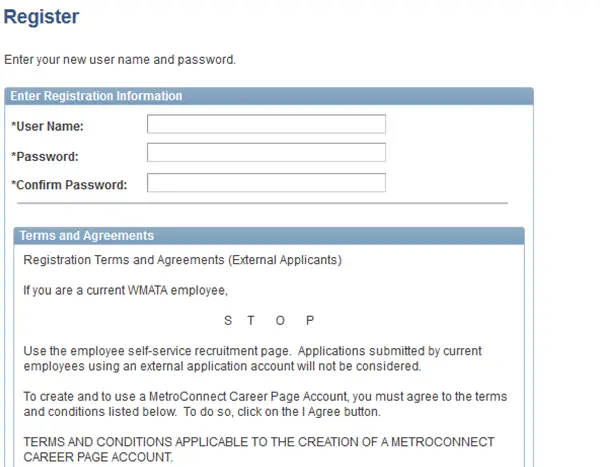 Step 8 – Select how you would like to proceed (regarding your resume).
Step 9 – My Profile – Fill in the following information into the appropriate input fields within the form:
First name
Middle name
Last name
Country
Address 1
Address 2
Address 3
City
State
Postal
County
Primary email type
Email address
Primary phone type
Primary phone number
Step 10 – Press the "Save" button at the bottom of the form to go to the next step. Complete the remaining sections.