Denny's Job Application
The Denny's job application can be downloaded via the link on this page. Read the how-to guide on this page (posted below) to learn how to search and apply for current openings in your area (by visiting the Denny's careers page). Restaurant, management, and corporate careers can all be applied for on the careers page.
About the Company: Denny's is an American chain of breakfast restaurants with over 1,600 locations in the United States and abroad. The majority of locations are owned by franchisees.
Apply Online
Step 1 – Click here to load the careers page in a new window/tab.
Step 2 – Search for current openings by entering a keyword/category into the input field, or by entering a location. Click the "Search" button to load the results page.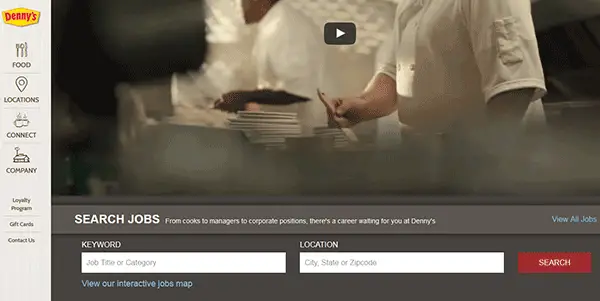 Step 3 – Scroll down the page to view the results of your search. The results can be narrowed by selecting a job type, category, or location.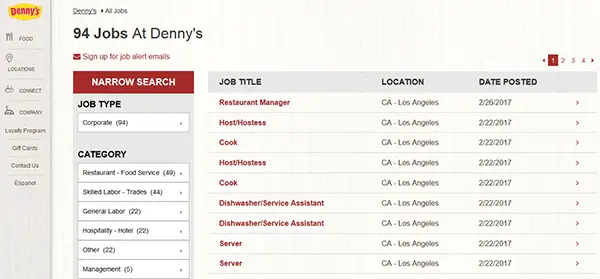 Step 4 – Press the job title link of the specific job you want to learn more about/apply for.
Step 5 – Read the job description, requirements, etc. and then click the "Apply" link (as outlined below).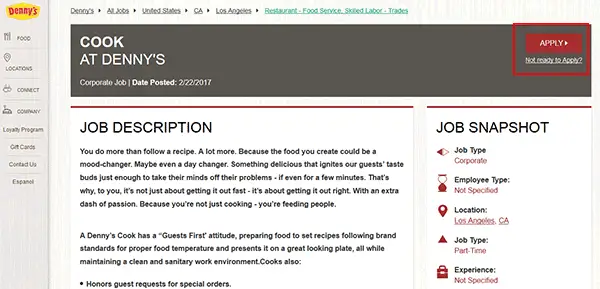 Step 6 – Click one of the links (outlined in the screenshot) to move on to the next step.
Step 7 – Quick Apply – If you have a resume/CV/cover letter upload it using the form in this section. Otherwise click the "arrow" button to load the next section.
Step 8 – My Information:
Select your country from the drop-down list
First name
Last name
Address
City
State
Postal code
Email address
Phone number
How you heard about us
Step 9 – Click the "Next" button to move to the next section.
Step 10 – My Experience:
Add your work and education experience into the appropriate subsections
Fill in any additional skills you have (if relevant)
Add languages you can speak/read/write
Upload your resume/CV
Step 11 – Answer all of the application questions, complete the voluntary disclosures, and then submit any remaining required information.
How to Write
Step 1 – Download the document (link at the top of the page).
Step 2 – On the first page of the form complete the following sections:
Applicant information
Education
References
Step 3 – On the page two (2) of the document submit the required details for the following sections:
Previous employment
Military service
Step 4 – Enter your signature and then fill in the date in dd/mm/yyyy format.
Comments
comments